Hello and welcome. I am an Independent DJ with over 20 years of wedding experience. I am based out of San Antonio but serve the Hill Country and surrounding areas as well.
I strive for perfection at each and every-one of my gigs. Customer service and satisfaction are inherently a priority for me.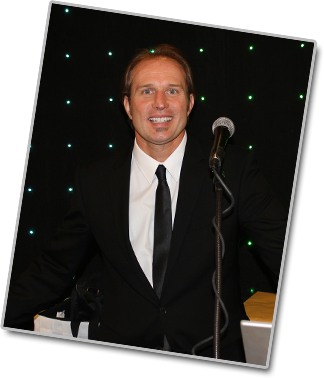 My equipment consists of Pioneer, JBL, and Apple, all staples in the music industry. Reliability and dependability are required in my business and my equipment has served me well.
All of my lights are incorporated to my set-up with the intent of being non-intrusive or detracting from a wedding or venues ambiance. Lights are an effective way to change the mood and I thoroughly believe in sustaining variety throughout the evening to control the tempo and mood for dancing.
My music collection is vast. I have been collecting music for over 30 years and have compiled a variety of set-lists effective for all types of crowds. I have been subscribing to the industry standard "Promo Only" music source for 20 years. I receive current monthly releases that are radio and family edited versions of today's new releases. In addition, as an active DJ my Library grows weekly through requests made by my clients. Often this helps me stay current and in tune with popular trends or songs. Thanks to Apple and IPhone I can take instant requests from guest and clients during gigs. This has been priceless as a DJ knowing that you do not have to tell somebody " no I don't have that". I do not charge for this service but see it as an asset to my Business. In addition I ensure that all artist and songs requested by my clients are made available to them, at no charge.
Having performed many ceremonies and receptions I am equally skilled to command an evenings sequence of events or collaborate with an event or wedding coordinator. The choice is yours, but my experience and knowledge of weddings lends itself to a seamless flow of events encompassed by the right choice of music for your special day!
As always, best of love,
Patrick McGurl